More info
AdaptaView Premium Eyepiece Adapter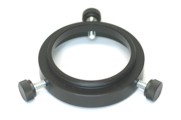 Use your best eyepieces for photography!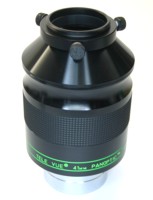 Fits many Tele Vue eyepieces!
(41mm Panoptic shown)
AdaptaView
Premium Eyepiece Adapter
This versatile adapter will fit many premium eyepieces with a removable rubber eyeguard and a top diameter (with the eyeguard removed) between 1.25" and 1.75". It is known to fit the following eyepieces....Tele Vue 32mm Plössl, 40mm Plössl, 55mm Plossl, All Nagler Type 2's and Type 4's, All Panoptics, Radians and Ethos. It also fits Televue and Vixen Zoom eyepieces and the following Meade eyepieces: UWA-8.8mm and 14mm, SWA-24.5mm, 32mm, 40mm and 56 Super Plossl. Useful for both SLR/DSLR and Digital Cameras using the proper step rings or T Ring. To use this adapter you slip off the rubber eyeguard and secure the 3 thumbscrews into the groove that normally retains the eyeguard. Due to the weight of the camera nylon screws are not an option, any light marks that may be left after removal will be covered up by the eyeguard when it is replaced (the same screw system is used by TeleVue on their Radian adapter).
This unit is equipped with a standard male "T" thread on top (42mm .75). You will also need a T-Ring, Step Ring and/or "Attachment Kit" to mount to your camera.