True-2™
2" UltraWide Prime Focus Adapters

---As seen in Sky & Telescope Magazine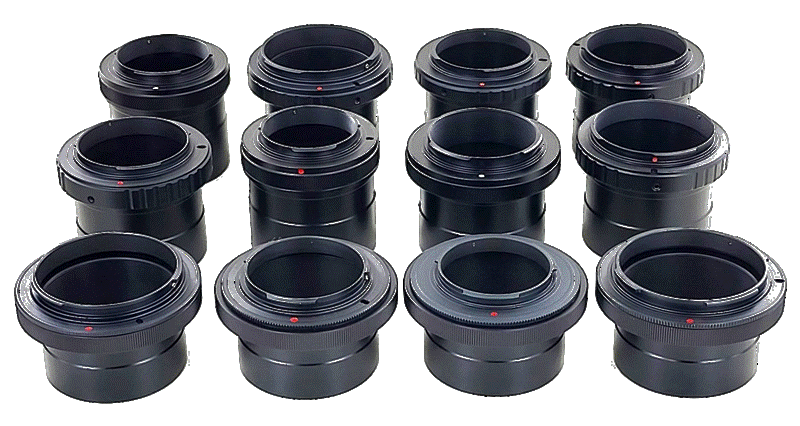 We manufacture the worlds largest selection of 2" UltraWide Adapters!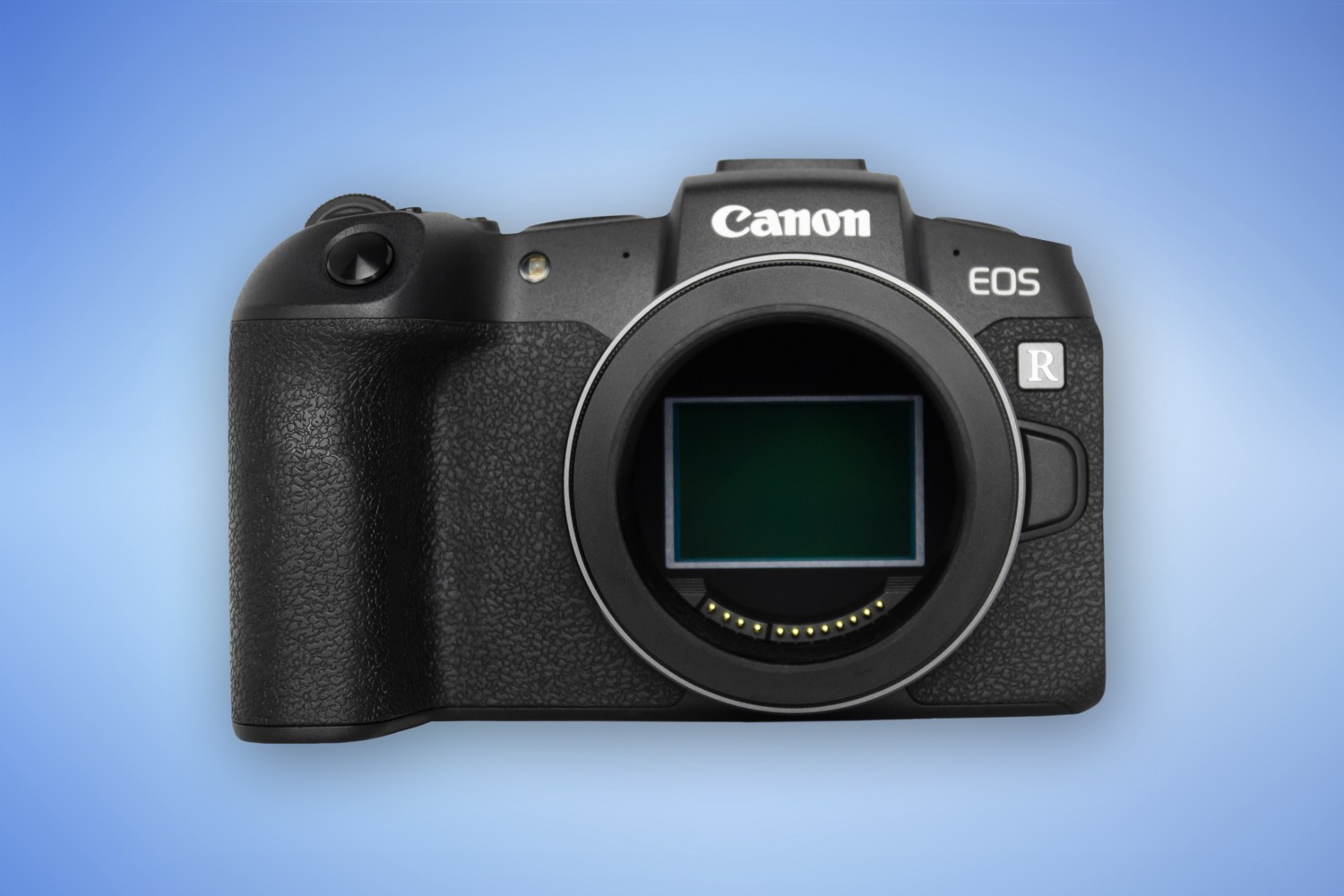 The True-2™ adapter goes directly from Bayonet mount to 2" Barrel.
There is Zero shading of the Full Frame Sensor. No Adapter induced Vignetting!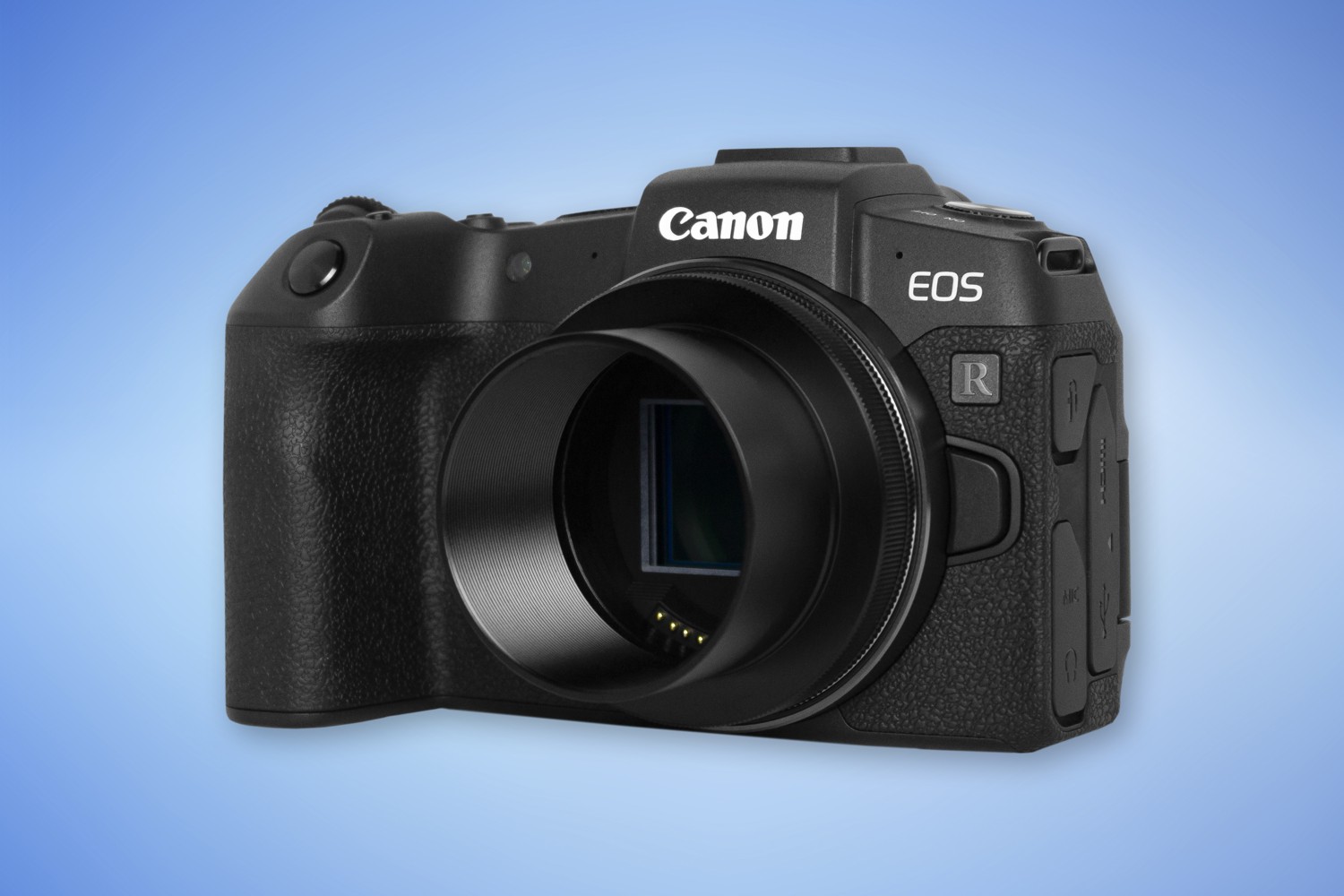 For Mirrorless Cameras we offer Low Profile versions that save you over an inch of
your precious back-focus. Great News for Reflector Owners who couldn't reach focus!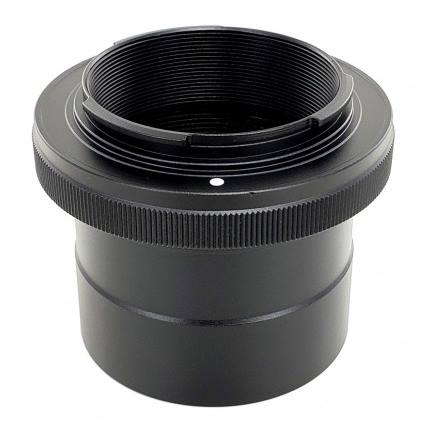 Sony E Mount Low Profile Model Pictured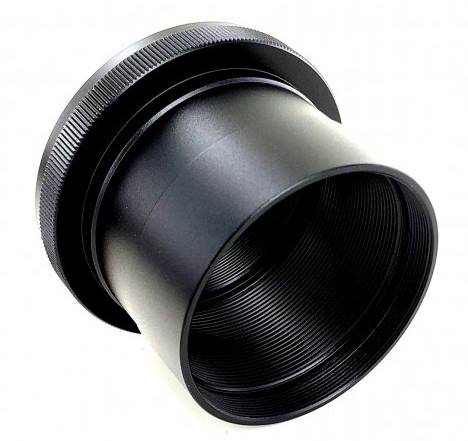 Telescope end is threaded for standard (48mm 0.75) 2" Eyepiece Filters.
_______________________________________________________________________________________________
Never let a good photon go to waste!
Why not just use a T-Ring?
Simply put todays equipment has outgrown the T-Ring. The "T2" T-Ring standard was developed by Tamron in 1957. It's purpose was to specify a common focus point when connecting 35mm Film Cameras to aftermarket camera lenses. In the 1950s the standard telescope port size was .96" and the Nikon F Mount was 40mm. Now telescope Port Size is 2" and the Nikon Z mount is over 49mm! The Clear Aperture of a T-Adapter is about 1.5" (38mm). Depending on your setup you can expect at least some vignetting when using a T-Ring.
What is Vignetting?
Vignetting is simply shading of the camera sensor. Since the light rays in a telescope are not parallel a restriction in the clear aperture can have more serious consequences than expected. Even if the restriction is larger than the sensor it can be at a place where the light rays will still be clipped by the angle. The shorter the Focal Ratio of the scope the steeper this angle and the worse it can be. The shaded area of the sensor will be dark and essentially wasted. The result in your images will vary depending on the degree of vignetting. Minor vignetting may clip the corners off the image, whereas more significant vignetting will give you a circular image in a dark field. Sure you could do extra work to enlarge and crop your images in a pc. But that can mean accepting a lot of loss in both image quality and overall value. Especially if you have an expensive camera. After all, what did 15% of that sensor cost?
What about "Mirrorless" Cameras?
Bad news and Great news. First the bad news.. the T-Ring vignetting situation is even worse with Mirrorless cameras. Mirrorless cameras have a much shorter light path within the camera itself. That means T-Ring manufacturers have to make their T-Rings into long Tubes to comply with the T2 Focus Standard.
This change moves that narrow 1.5" restriction. It's no longer near the camera mount where it would cause less damage but way out.. suspended 50mm in front of the sensor. Kind of like looking through a swim ring held at arms length, rather than close to your face. I don't know about you but I didn't endure the rigors of learning astrophotography to image the backside of T-Rings.
But there is Great News for mirrorless cameras!
All that extra T-Ring length (that is currently being wasted) can be recovered and used! While Reflector owners dream of having an extra 1/4" of Back Focus these "T-Tubes" are wasting over an inch of it! So with the introduction of the first mirrorless cameras we also introduced our "T-Minus" 2" UltraWide Adapters. These Low Profile adapters have an installed height of about 10mm. A standard T2-Tube is more like 38mm. So if you have a mirrorless camera you can GAIN about an inch of extra Back Focus using a T-Minus Adapter.. and of course it's UltraWide too.
Using a Low Profile "T-Minus" Adapter will give a mirrorless camera about 1 EXTRA Inch of back focus over a mirrorless camera using a standard T2 Ring (or over an equivalent DSLR). In the DSLR this inch is used up by the longer mirror light path inside the camera.
____________________________________________________________________________________

T-Minus™
2"
Low Profile

UltraWide Adapters
for Mirrorless Cameras

Available for: Canon EOS-R Mount, EOS-M Mount, Nikon Z Mount,
Sony E Mount, Fuji X Mount, Micro 4/3 Mount, Leica L Mount and more.

Canon EOS-R Low Profile Model Pictured
AN ADDITIONAL BENEFIT FOR MIRRORLESS CAMERAS!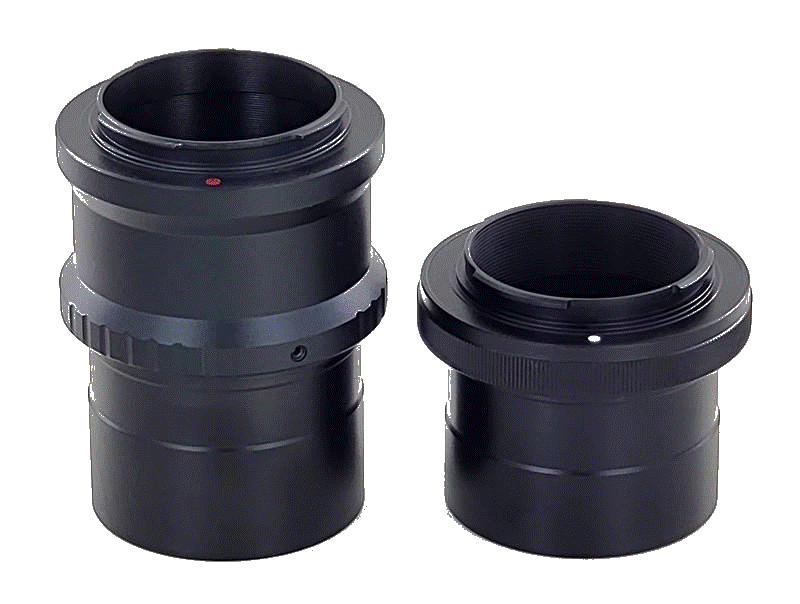 In addition to having a 10mm Wider clear aperture our "T-Minus" adapters are also over 25mm Shorter than a standard Mirrorless T-Ring. That is great news for Reflector Owners as they will most likely be able to reach Prime Focus for the first time ever.. without a Barlow or Telescope Modifications!
No matter what Type of scope you have there are benefits to our T-Minus Adapters:
Reflector owners rejoice being able to reach true prime focus for the first time, without telescope modifications!
Refractor owners gain an extra inch of back focus that can be used for Filter Wheels and other accessories!
Catadioptric owners appreciate the shorter adapter length and extra Mount Clearance it allows!

All Telescope Owners appreciate the larger Clear Aperture.

____________________________________________________________________________________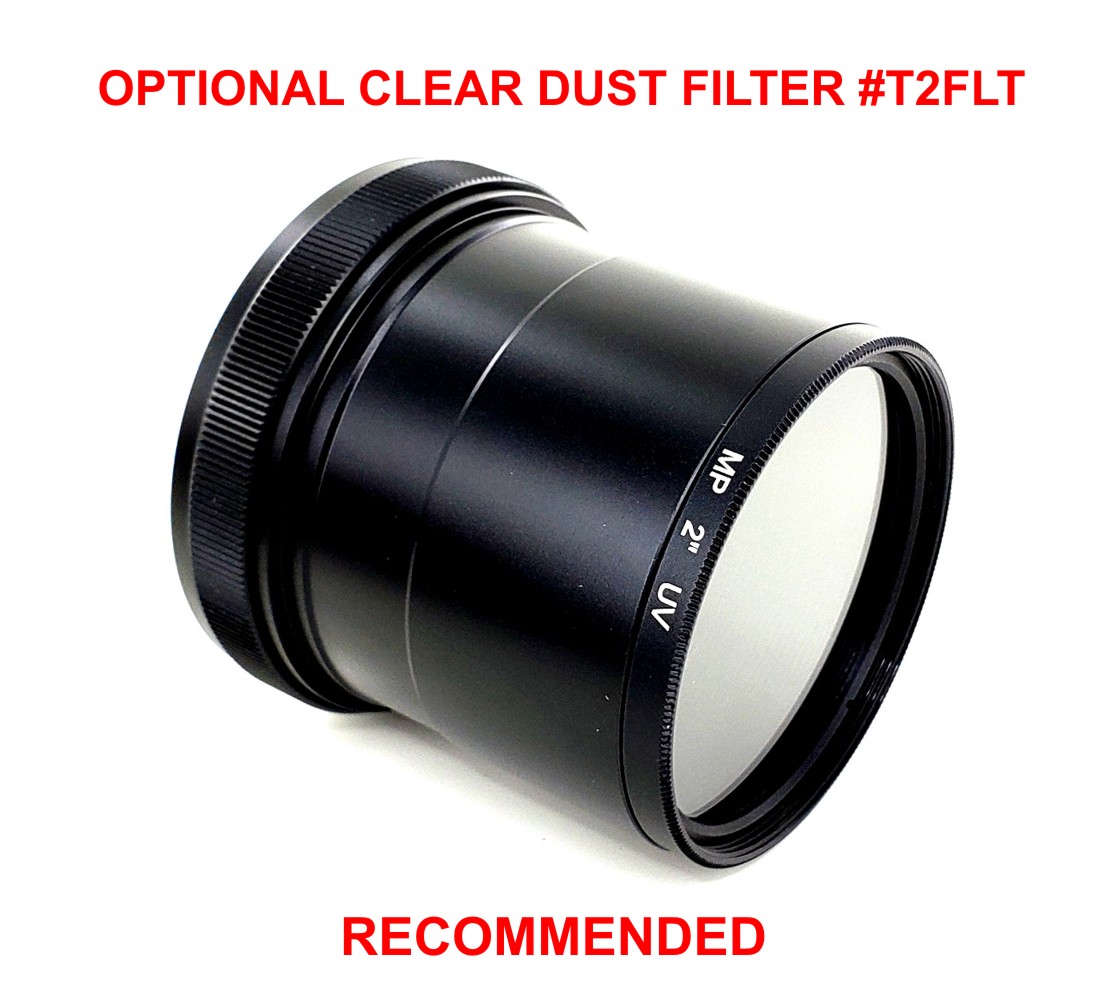 Our quality 2" Clear Glass UV Filter will help prevent dust entry into your camera. This is especially important for Reflector type telescopes (as they are open to the air) as well as for Refractor type telescopes (as they "pump air" when the focuser is racked in and out).


Click Here to see our Clear Glass Filter
--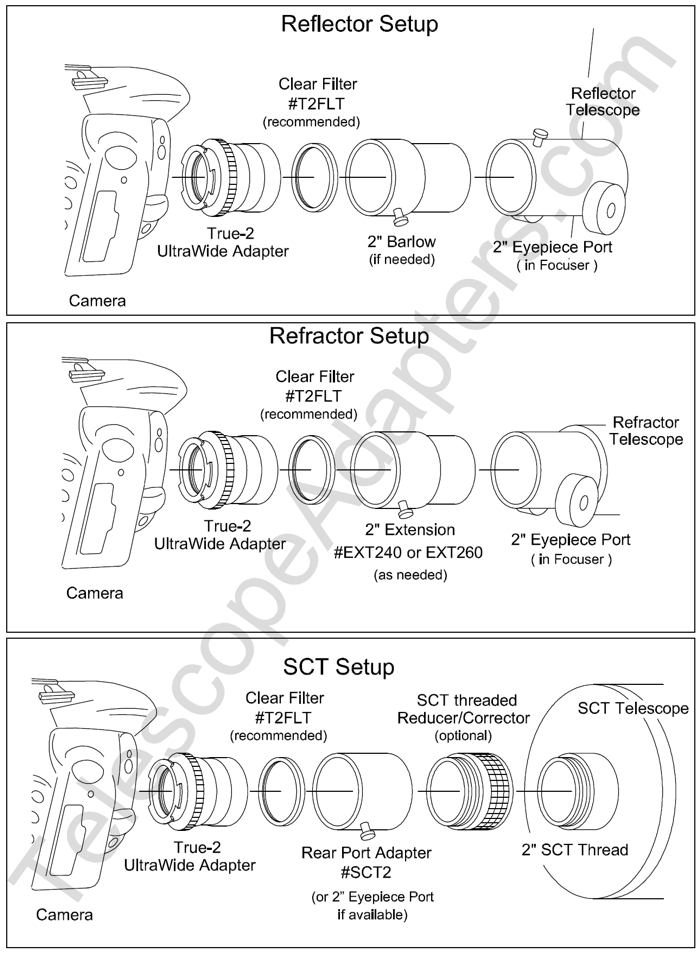 ____________________________________________________________________________________


Q: I have a Meade (or Celestron) SCT telescope and would like to have the benefits of this adapter but my scope only accepts 1.25" eyepieces. Is there any way I can use this adapter?
A: If your SCT is not already setup to accept 2" eyepieces and accessories you will need a 2" Rear Port Adapter, this item threads onto the large "SCT" thread on the rear cell of your scope and converts it to a standard 2" eyepiece port. The True-2 will slide directly into this port. Please see the setup diagram for details.

Q: I have a Meade (or Celestron) SCT telescope. Will this adapter thread directly on to the rear cell of my scope?
A: The True-2 adapter will not thread directly onto the rear "SCT" thread. It has a 2" barrel just like a 2" eyepiece and inserts into a 2" eyepiece port. If your SCT is not setup to accept 2" eyepieces you will need a 2" Rear Port Adapter. This is actually better than if it threaded on to the scope directly as it allows you to very quickly and easily install and remove the camera during a session. It also gives you absolute freedom in positioning the camera radially for the best framing of your shot.

Q: Will this adapter fit my spotting scope (or microscope)?
A: The True-2 adapter is for astronomical type telescopes equipped with 2" eyepiece ports only. It will not fit spotting scopes or microscopes.
____________________________________________________________________________________