More info
ETX Premium Astrophotography Kit
fits all Micro 4/3 Mount Mirrorless Cameras
(Olympus & Panasonic Mirrorless Models)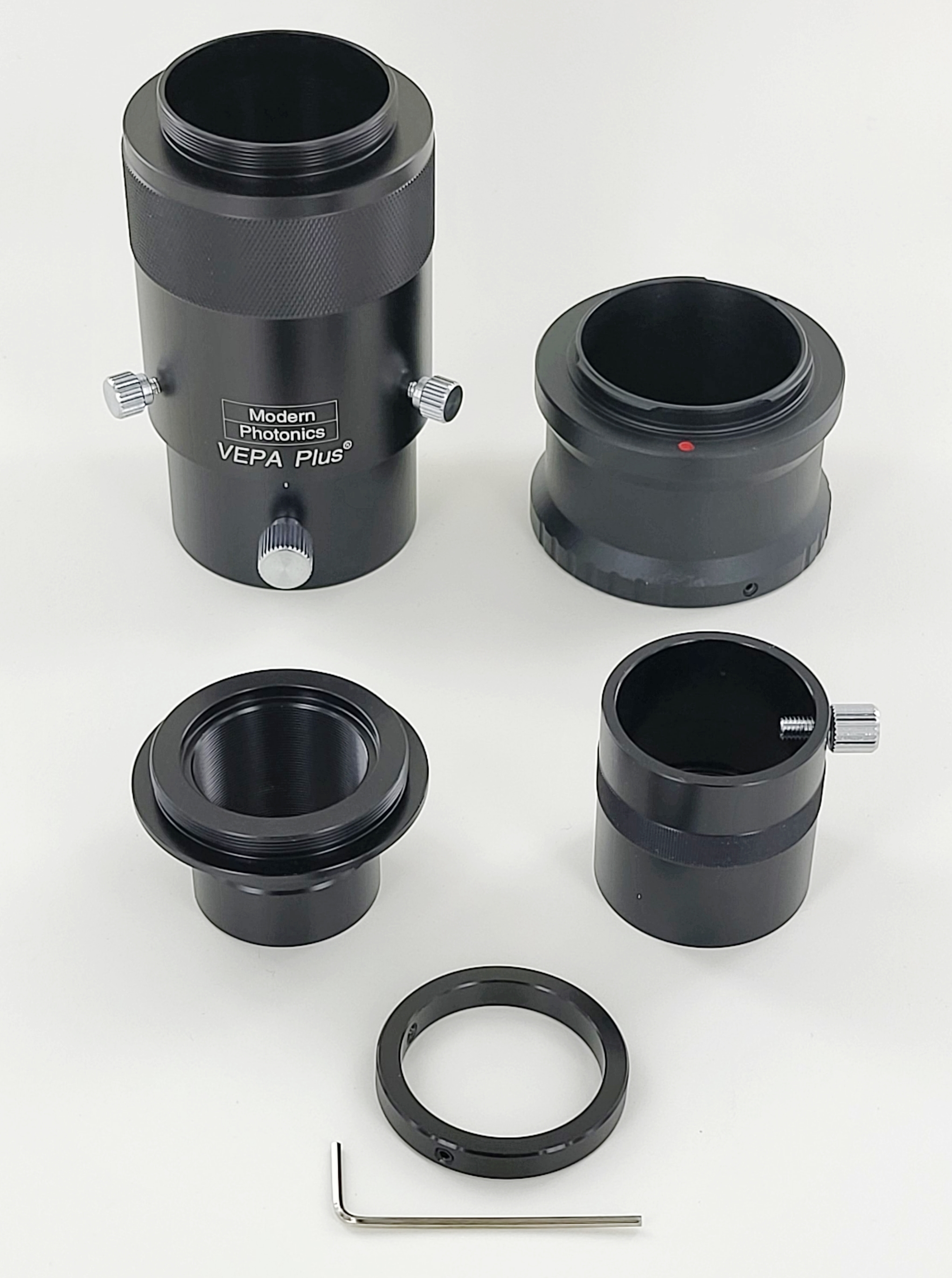 This money saving combo includes everything needed for both imaging types.
Fits ETX-90/105/125 Only.


The included Rear Port Adapter converts the ETX Photo Port to accept standard
1.25" accessories. Image or View straight through, attach a CCD Imager and more!

In Prime Focus mode the Telescope becomes the camera lens and
you are imaging at the widest possible Field Of View for Deep Sky Objects.


In Eyepiece Projection mode an Eyepiece is used to increase magnification.
This method is commonly used for Imaging detail on the Moon, Planets and Nature.
The variable length adapter is a fine magnification control to better Frame your shots.
The included parts will allow you to couple your Micro 4/3 Mount camera to both the Rear Photo Port and to the top Eyepiece Port. You can image in both "Prime Focus" or "Eyepiece Projection" modes. Much more versatile than the Meade #64 Adapter. This money saving combo includes our new VEPA+ Variable Eyepiece Projection Adapter, an ETX 1.25" Rear Port Adapter, A 1.25" Prime Focus Adapter, a Parfocalizing Ring to aid in Focusing and the appropriate T-Ring for your camera. The "variable" feature of this adapter allows you to adjust the magnification for better framing of your shots.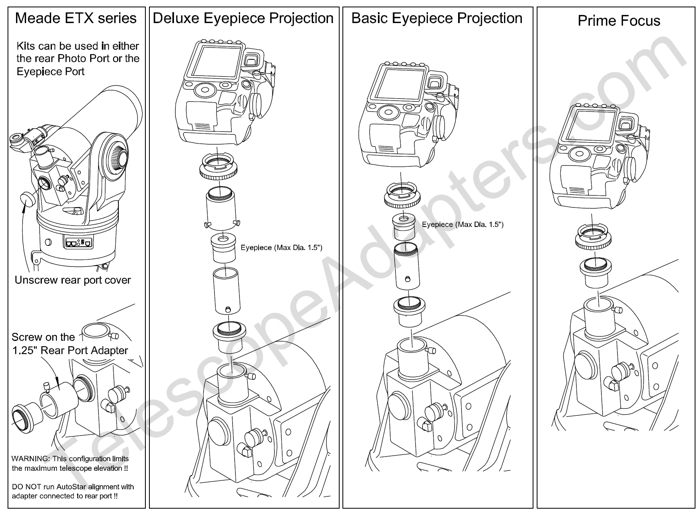 The parfocalizing ring allows you to make an eyepiece in your top port "Parfocal" with your camera. This will allow you to center and focus using an eyepiece in the top port (which is much easier than focusing in the camera viewfinder) and then just flip the mirror down to take a perfectly focused image. Parts are "T" threaded for compatibility with many other adapters. Constructed of aluminum with a durable anodized black finish.
The VEPA+ Adapter is capable of holding Eyepieces up to 42mm in diameter.
Fits most 1.25" Plossl eyepieces up to 40mm FL.
Please Note:
This kit fits MICRO 4/3 MIRRORLESS Cameras.
It does NOT fit Full Size 4/3 DSLRs. See Item #EPO43.