More info
Astrophotography Kit (1.25") for Nikon SLR /DSLR Cameras
Eyepiece Projection & Prime Focus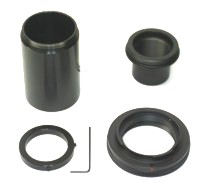 -
This kit includes the parts you will need for both "Prime Focus" and "Eyepiece Projection" astrophotography packaged together in one money saving easy to purchase kit. Fits any telescope with a standard 1.25" eyepiece port. The included parts will allow you to couple your SLR or DSLR camera for "prime focus" or "eyepiece projection" astrophotography. Parts are "T" threaded for compatibility with many other adapters. All parts are CNC machined of aluminum, coated with a durable black anodized finish and internally baffled to reduce reflections. The 1.25" barrel is threaded to accept standard 1.25" Eyepiece Filters. See our optional clear glass Dust Filter ( #T1FLT ), recommended to help keep dust out of your camera .

Included in this kit: Our fixed "Eyepiece Projection" adapter, a 1.25" "Prime Focus" adapter, a T-Ring to fit your brand of camera and a parfocalizing ring for easier high power focusing.
--
This kit is suitable for:
Prime Focus – In this imaging method the camera is connected directly to the telescope and placed at the "prime" focus of the telescope. The telescope becomes the camera lens. No eyepiece is used in this method. This method provides the widest possible field of view, the shortest possible exposure time and moderate magnification. Typically used for imaging nebulae, galaxies and other large (but dim) deep sky objects.

Eyepiece Projection – In this imaging method an eyepiece is used to increase magnification. The eyepiece is placed between the camera and the telescope. The eyepiece "projects" the image larger onto the camera sensor. Eyepiece Projection is typically used for Terrestrial, Lunar and Planetary imaging and any time higher magnification is needed to bring out detail.
-
IMPORTANT: Additional parts may be required to reach photographic focus with certain telescope types:
SCTs and Maks generally have enough focus range without any additional optical or physical extensions.
Reflector type telescopes will typically require the use of a Barlow Lens (#BAR1).
Refractor type telescopes will typically require the use of an Extension Tube (#EXT126).
Alternative Solution:
See our Deluxe Adapter Kit which is suitable for both "Prime Focus" and "Variable Eyepiece Projection" imaging.