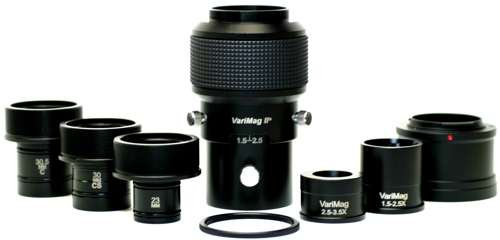 The VariMag II DSLR adapter system
Easy to Use - Quality Optics - Quality Results
Digital SLR Cameras are taking over the photomicrography market, quickly replacing dedicated CCD imagers. The reasons are many.. Modern DSLR cameras offer such features as "live view" on a computer screen, full HD quality video and ultra high resolution digital stills. DSLRs are useful for other tasks and their pricing is very competitive. A DSLR can also operate in a self-contained mode without a computer when necessary. The reasoning is solid and implementation is now very easy.
The VariMag II system will quickly and easily mate your DSLR camera to your microscope. VariMag II provides a solid mechanical connection combined with a quality variable magnification optical system. The research grade VariMag II system was designed to be affordable, easy to setup, easy to use, and to provide professional results. VariMag II will fit most microscopes. Modular mounts are included to fit 23mm, 30mm and 30.5mm ocular ports as well as any common 1x "C" or "C/S"-Mount.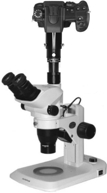 VariMag on Stereo Microscope
As its name implies VariMag stands for "Variable Magnification". VariMag II offers the largest magnification range in the industry by using dual range modular photographic eyepieces. We include two photo eyepieces (1 Low Range and 1 High Range) in every kit as standard equipment. The photo eyepieces are mounted in easy to change proprietary "optics cartridges" for convenience. Try to find another adapter that includes 2 photo eyepieces at any price, let alone at this modest price point. In addition VariMag II uses an infinitely adjustable variable projection unit, so there are no gaps throughout the entire magnification range.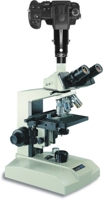 VariMag on Compound Microscope
For further versatility (and future adaptability) we designed the VariMag II system with an interchangeable camera mounting ring so you can use VariMag II on DSLRs of any brand, just order a new inexpensive ($25) ring for the new camera. No need to buy a whole new adapter just because you bought a new camera, and you will also have the ability to share it among other DSLR cameras.
Whether you image for biology, pathology, materials analysis or forensics you will find the VariMag system is easy to use and provides professional results. We offer a 30 day No Risk 100% money back guarantee and a 5 year free replacement warranty on all parts.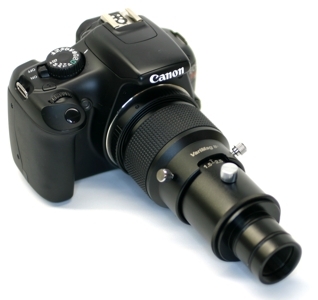 VariMag II mounted on Camera.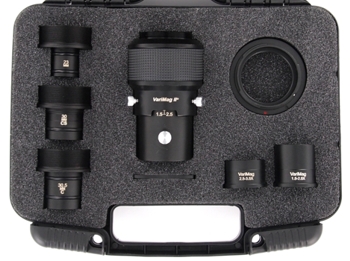 The VariMag II system is supplied in a custom storage case.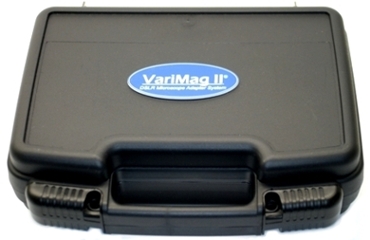 For Complete information on the Varimag II System please visit www.VariMag.com

Things to Consider when purchasing a Microscope Adapter

Will it fit my Camera?
The VariMag II system includes one Camera mounting Ring of your choice. We have Rings for virtually all DSLR camera models. Additional Rings are only $25 should you want to use more than one camera with your equipment or if you change camera brands in the future.
Will it fit my Microscope?
The VariMag II system includes 3 interchangeable mounts offering 5 mounting configurations. It will fit into any common 23mm, 30mm or 30.5mm Ocular Port. It will also fit any standard 1x "C" or "CS" Mount. If your Microscope is equipped with a trinocular port and you need a 1x C-Mount we have a selection of popular C-Mounts at low cost.
Beware of adapters that use sleeve type spacers instead of providing a full sized barrel for each mount (if you put a sleeve over a 23mm barrel to make it fit a C-Mount you are still shooting through the more restrictive inner diameter of the 23mm barrel, this can result in vignetting).
Does it include a photo eyepiece?
The VariMag II system includes not only one, but two Photo Eyepieces. One Low Range (1.5x-2.5x) , and one High Range (2.5x-3.5x). Many adapters require you to purchase a photo eyepiece separately with costs frequently over $500 each. We have been manufacturing specialized photographic eyepieces for over 15 years, our production experience and makes it possible to include two quality photo eyepieces at this modest price point. The specialized photo eyepieces included with the VariMag system are mounted in easily interchangeable "optic cartridges".
Is the magnification factor fixed or variable?
As its name implies "VariMag" is a variable magnification adapter. A variable magnification adapter offers significant advantages over a fixed magnification adapter. For example you can use variable magnification to calibrate your camera to a known scale, making measurements easier. You can use multiple magnification levels to emphasize important areas of your subject and it gives you the ability to frame your shots better. Why limit yourself to a single magnification?
Does it have quality optics?
The optic cartridges included with VariMag II are guaranteed diffraction limited and use a 4 Element/2 Group optical system. The lens edges are blackened and all optics are multi-coated on each air to glass surface for superior contrast, scratch and mold resistance.
If your needs are critical beware of low priced hobby grade adapters. You get what you pay for in optics. Low cost adapters typically have vignetting, color fringing and spherical aberration. If it were just a mechanical adapter it would be one thing, but optics require exceptional precision with accuracies measured in wavelengths of light. Anything less destroys the fidelity of the entire system.
Can I measure with it?
If you want to measure you need optics that produce a flat and linear image. This is the downfall of many DSLR camera adapters, even units costing several times as much. You may see lots of pretty images images on their websites, but you should be asking for only one.. a simple image of close, evenly spaced horizontal and vertical lines at high power. This simple image is truth serum for optics and it will show plenty about the optics being used. The most common optical defect being "spherical aberration" which will show itself as a ballooning or pincushion effect (Hubble had spherical aberration). The non-linearity of an image with pincushion effect will make accurate measuring impossible.
VariMag II optics are designed to produce flat, linear images. And with variable magnification you control the image scale. That means you can calibrate the image to a known size to make measuring even easier!
Image of a 300 LPI Ronchi Grating showing the flat, linear field of view.
Will it be obsolete soon?
Due to the interchangeable camera mounting rings and flexible mounting solutions your VariMag II system will be usable for many years to come, even if you switch camera brands and microscopes. We also offer an upgrade path to our previous customers so you can enjoy all of the latest features at a very nominal cost over the original purchase price.
Beware of adapters that only fit a single camera and/or microscope, as a change of either may leave you needing a whole new adapter.

What is the Warranty?
All new VariMag II systems include a 5 year warranty against defects in material or workmanship. We use the finest grades of materials and coatings to insure long life and to provide durable scratch and mold resistant optics. We also offer discounted replacement parts to our customers who have lost, damaged or modified a part of their system.


What is the Return Policy?
In an industry loaded with limited return privileges and high restocking fees here is a breath of fresh air...
All new VariMag II systems purchased on this website can be returned in new condition within 30 days of purchase for a full refund of the purchase price (-shipping). No restocking fees!
Is it in stock?
We have hundreds of adapters and camera rings in stock at any one time. Orders ship the same day or next morning. If ordering an adapter elsewhere you better ask, many adapter suppliers have lead times measured in weeks.
.


Are you a student, educator or buyer for an educational institution?
Please Contact Us for educational discount information. Qualification is quick and easy!
Ordering Information
US Orders: To place an order simply select your camera brand below and click the "In Stock" button to add to your shopping cart. After checkout you will receive an email order confirmation within minutes. You will also receive a shipment confirmation with tracking information when the item ships. Please note that the shipping address must be USPS (not UPS) deliverable. Our standard US shipping method is USPS Priority Mail (2-3 days). Priority Mail is trackable and fully insured. If you need faster shipping please click the EMS shipping option and your order will ship via Express Mail. Express Mail is typically overnight to most (but not all) areas of the US. Most orders ship same day or next morning. Sales tax is charged only in Florida. If you are FL tax exempt please contact us. Sorry, we do not currently accept any unpaid POs. All orders must be placed and paid for online.
International Orders: FIRST be sure to click the EMS shipping option. This is required for secure USPS Express Mail delivery. Express Mail is expedited, trackable and fully insured. Delivery to most countries in approximately 5-6 days (assuming no customs delays). To place an order simply select your camera brand below and click the "In Stock" button to add to your shopping cart. After checkout you will receive an email order confirmation within minutes. You will also receive a shipment confirmation with tracking information when the item ships. We do not collect any customs taxes, duties or fees, these are your responsibility and if due would be collected on your end. Please don't ask us to undervalue shipments, proper insurance requires stating the full value of the item shipped.
If you have any questions please feel free to contact us for a prompt courteous response.
VariMag II System Diagram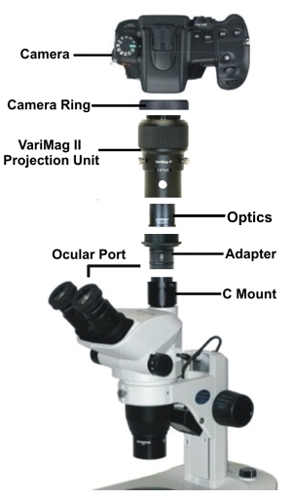 VariMag II is a microscope to camera adapter system.
Camera & Microscope are not included.