2" UltraWide True-2 Prime Focus Adapter for Sony Alpha A-Mount
(w/ undercut on barrel)


---
As seen in Sky & Telescope Magazine.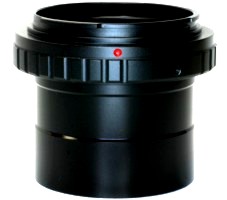 The True-2™ adapter goes directly from Bayonet mount to 2" barrel.
Bypassing the restrictive T-Ring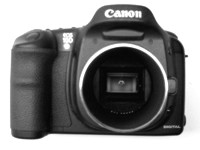 This increases the clear aperture from 1.5" to 1.85"
There is zero shading of the CCD sensor.
--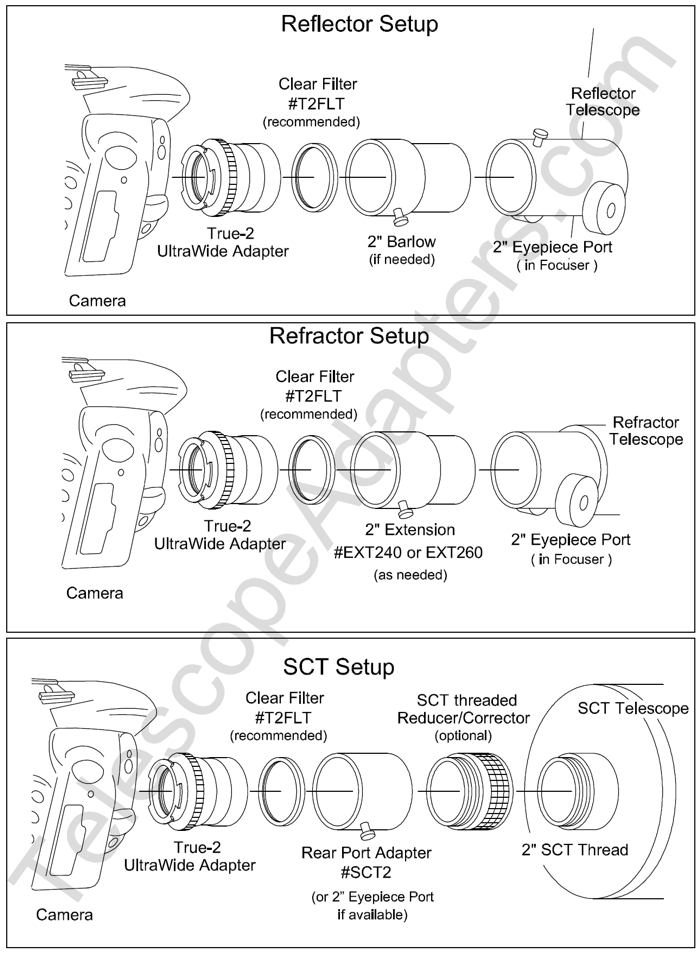 ________________________________________________________________________________________________
As the CCD chips in our DSLR cameras get larger it is ever more important to have an unobstructed light path to prevent vignetting. The manufacturers of high end scopes wisely put 2" eyepiece ports on them. Why then do we insist on putting a 1.5" bottleneck before your camera?

T-Rings have been around for decades, a legacy standard that is long outdated. They exist not because they are the best solution for imaging, but because they are the easiest solution for manufacturing. After all it's much easier to spin a standard thread on all adapters, regardless of telescope port size or camera brand. The T-Ring may be convenient but it is simply out of its league on a scope with a 2" eyepiece port.. especially with a camera that can take advantage of it.

Our True-2™ UltraWide Adapter is a true 2" prime focus adapter that takes you directly from the bayonet mount to a 2" barrel with as few wasted photons as possible, adding as much as 10mm more clear aperture over legacy adapters! The largest clear aperture of any adapter on the market. And it costs little more than a quality T-Ring and 2" T-adapter. Fully baffled to reduce reflections and threaded for 2" eyepiece filters. Available with or without a safety undercut on the barrel. Don't choke the photons out of your camera with an inferior adapter!

Q: What's an undercut?
A: An undercut is a machined groove around the 2" part of the barrel where the thumb screw (or compression ring) makes contact with the adapter. The groove is a safety retention device to help prevent accidents should your focuser thumbscrew be left a little loose. Loosening can also happen due to a temperature changes. Some people love them and others hate them, most all quality eyepieces have them. Generally either will work fine, it is more a matter of personal preference. If in doubt we recommend you go with the undercut, it just may save your camera from a nasty fall.

Q: I have a Meade (or Celestron) SCT telescope and would like to have the benefits of this adapter but my scope only accepts 1.25" eyepieces. Is there any way I can use this adapter?
A: If your SCT is not already setup to accept 2" eyepieces and accessories you will need a 2" Rear Port Adapter, this item threads onto the large "SCT" thread on the rear cell of your scope and converts it to a standard 2" eyepiece port. The True-2 will slide directly into this port. Please see the setup diagram for details.

Q: I have a Meade (or Celestron) SCT telescope. Will this adapter thread directly on to the rear cell of my scope?
A: The True-2 adapter will not thread directly onto the rear "SCT" thread. It has a 2" barrel just like a 2" eyepiece and inserts into a 2" eyepiece port. If your SCT is not setup to accept 2" eyepieces you will need a 2" Rear Port Adapter. This is actually better than if it threaded on to the scope directly as it allows you to very quickly and easily install and remove the camera during a session. It also gives you absolute freedom in positioning the camera radially for the best framing of your shot.

Q: Will this adapter fit my spotting scope (or microscope)?
A: The True-2 adapter is for astronomical type telescopes equipped with 2" eyepiece ports only. It will not fit spotting scopes or microscopes.
________________________________________________________________________________________________


For (Full Size) Sony Alpha Cameras
Fits all Sony Alpha Digital SLR Cameras including models A37, A57, A65, A77, A99, A100, A200, A230, A290, A300, A330, A350, A380, A390, A450, A500, A550, A560, A580, A700, A850 and A900